Towards greater sustainability
Sustainability is about adapting our practices to focus on preservation for future generations. It requires the linking of heritage to strategies for environmental protection, social cohesion, and suitable infrastructures. However, this emerging field also needs to identify gaps and actively improve the integration of sustainability within daily practice. The Royal Institute for Cultural Heritage wants to support the cultural heritage field in becoming more resilient. Additionally, practical tools are being developed to support this sustainable transition. We met with Estelle De Bruyn, Annelies Cosaert, Wivine Roland-Gosselin and Elke Selter, the four members of the Sustainability Unit.
A global vision to address the needs in the heritage field
Estelle De Bruyn and her team work on projects built on interdisciplinary collaboration. They build bridges between cultural heritage institutions and other professionals such as engineers, architects, and emergency response professionals. These projects focus mainly on emergency preparedness, response, and energy transition. "As a federal institution, we have a broad view of what is happening in Belgium, but we intend to create links with our international partners as well," she explains. Looking at the problem holistically is essential, but Estelle sees her team as a bridge-building link: "You can have a broad and common definition of what sustainability is, but it always needs to be applied to the specific needs of your institution."

A recent concern is how to support cultural heritage institutions to implement energy-saving measures. Knowing the field's needs and capacities is essential for tackling this contemporary problem. The project Climate2Preserv focuses on developing a protocol, handbook and toolbox to help mid-size to large museums integrate energy-saving measures while improving the long and short-term collection environment. Annelies Cosaert, the scientific collaborator in charge of the project, understands that the task is difficult for museums: "They often rely on getting complex climate systems to comply with guidelines that are difficult to respect within the type of building they have. These guidelines are formulated for new, airtight buildings and collections that are often more sensitive than the permanent historical collections that many of our museums have."

You can find ways to reduce your energy consumption by working with collection and climate control specialists. For instance, 10% to 30% can be saved by changing the settings of heating, ventilation, and air conditioning systems: "many people don't know that when it's colder for collections, it's often better. It slows down natural decay." Of course, cultural heritage institutions decide which measures to adopt and how far they can go. Past projects, such as Resilient Storage, have focused on small to mid-size museums, which often have fewer resources and personnel. KIK-IRPA, in collaboration with project partners, helped them to reduce energy consumption in their storage areas in the short term. To respond to the urgency for energy reduction, the team recently published a practical guide that lists possible energy-saving measures in the short term based on the type of climate control system present.
Sustainability, a matter of social responsibility
Sustainability is not only about the effectiveness of practices from an environmental point of view but also about their social impact. For Estelle, it is important to recall that heritage is not only a memory of the past. "Heritage contributes to the well-being of communities. It's about the here and now. It gives them a sense of space and belonging. Heritage shapes our daily practices, giving meaning to what we want to preserve." We share our heritage and love it as a community: that's why we have passed it on over generations.

When a disaster happens, the social impact of destroyed heritage often lasts longer than the material one. Wivine Roland-Gosselin is currently working on a specific example that shows how heritage loss impacted a whole community. The unique "Bethleem of Verviers" at the Musée d'Archéologie et du Folklore is a distinctive puppet theatre and annual celebratory practice that originated in the 17th century. The floods of July 2021 caused significant damage to these puppets. "From a material point of view, these puppets are made of simple crafting materials," explains Wivine, "but from a historical and social perspective, their use, the so-called intangible heritage, is at stake." This was a major loss for the museum, but even more so for the community as this theatre reflects a part of the valley's history and social practices.

"We aim to help the museum reconnect the community of Verviers through intangible heritage, thus reactivating this practice, first by restoring it, a task carried out by Saint-Luc Liège School of Art, and then by recreating a story that brings people together." A sustainable way to conserve and restore our heritage is through integrating communities: "Meaning is created through the interaction between the people and the object, not from the object itself," says Wivine. She believes it will also help the inhabitants of Verviers to become more resilient and speed up their recovery. The Bethleem puppets and other specific cases act as case studies to develop methodologies that can be replicated in a different context.
Building up a crisis response
In response to the floods that affected a part of Southern Belgium in 2021, the Institute set up a crisis committee dedicated to safeguarding cultural heritage. This committee brought together fifteen heritage-related organisations. "It was a role we had never played before, but it was a natural fit," explains Estelle. Elke Selter is the coordinator of the CHrisis project, which was developed in the aftermath of the floods. Through this project, many teams within the Institute are now researching practical solutions. For example, the Monuments and Monument Decorations Lab is considering how buildings dry after having been flooded; the Glass and Ceramics Studio is analysing how to clean ceramics that have been submerged in mud for a considerable amount of time; the Textiles Studio is working on severely damaged church textiles. "The aim is to translate our scientific research into actual solutions for the field and to render our response more structural, more efficient," she explains.

The task is huge, as every problem requires specific solutions, and requires the team to coordinate with the affected sites and institutions closely. The knowledge gathered allows us to better respond to future disasters, be they linked to floods, fire or even armed conflicts. Estelle De Bruyn insists on the collaborative aspect of such projects: "Everyone understands that it is only by working together at all different regional, national and international levels that we can find sustainable solutions. We must work with existing structures such as the National Crisis Center and see where, as heritage experts, our expertise might fit in." In risk management, what is avoided is often hidden, but preventive actions are the best for sustainability. "You can't prevent everything," explains Elke Selter, "but if a new crisis happens, we can help the sector to respond more effectively, to become more resilient." That's why the Sustainability Unit coordinates a parallel platform that brings together all federal scientific institutions (FSI), the FEDERESCUE (Federal Rescue Strategy for Science & Cultural Heritage), that aims to mitigate and create preparedness for any major risk that could have a big impact on the FSI's cultural heritage.

All these projects constitute a piece of the puzzle to build a more sustainable heritage sector. The Sustainability Unit hopes to contribute to evolving awareness and practices by strengthening partnerships and establishing a continuous dialogue between all stakeholders.
22.11.2023
At the heart of the NEMO European Museum Conference 2023, KIK-IRPA played a crucial role in developing concrete tools to initiate a paradigm shift in the cultural sector.
Read more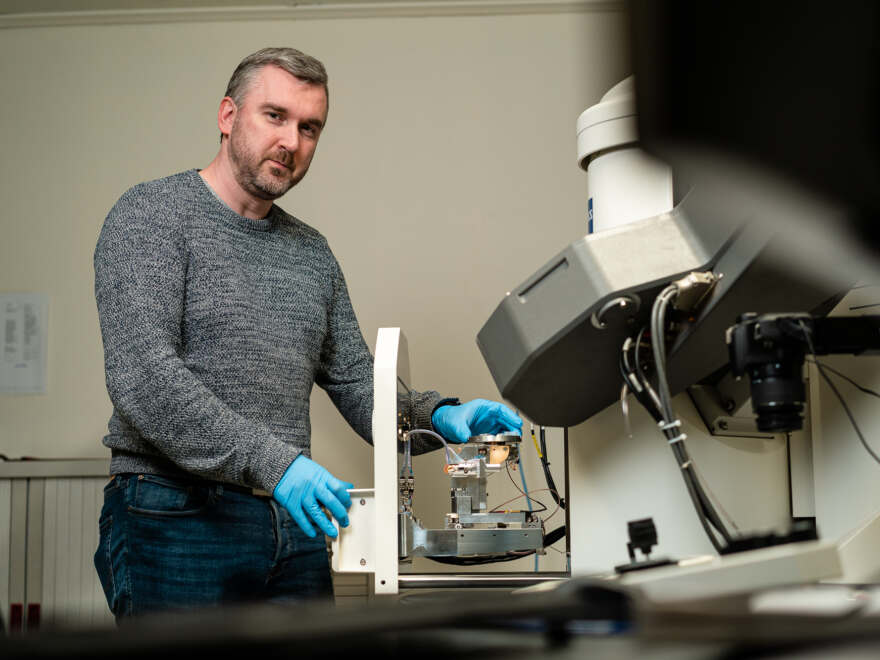 14.11.2023
Our colleague Wim Fremout coordinates the Belgian node of the European Research Infrastructure for Heritage Science (E-RIHS), supporting the interpretation, documentation, preservation, and management of heritage in Europe. Explore further on the new E-RIHS website.
Read more