Open science - Making our knowledge available to all
According to UNESCO, open science is defined as an inclusive construct that combines various movements and practices aiming to make multilingual scientific knowledge openly available, accessible and reusable for everyone, to increase scientific collaborations and the sharing of information for the benefit of science and society, and to open the processes of scientific knowledge creation, evaluation and communication to societal actors beyond the traditional scientific community.
To learn how the Royal Institute for Cultural Heritage is working towards the same goal, meet Erik Buelinckx, head of the Information Centre, Stephanie Buyle, data manager, and Wim Fremout, heritage scientist in KIK-IRPA's Painting Lab and coordinator of HESCIDA and E-RIHS.be
When did digital transformation start at the Institute, and where are you heading?
EB: At the end of the 80s, the Institute noticed the possibilities for the emerging digital technologies in its mission to document, study and preserve Belgium's cultural and artistic heritage and to make the information that was and is assembled and created during this process accessible to the public. The arrival of the internet and new ideas about freedom of information, combined with the public role of an institute like ours, naturally evolved into making all this work available to the public as much as possible. When I arrived at the end of the 90s, this extensive database of descriptions and depictions of artworks and other cultural heritage representations was already being used. And there was also a functional website where people could search and view this information with many primarily low-resolution images. We have over 1.000.000 photographs of artworks and all kinds of cultural heritage items, buildings, landscapes, popular, historical, cultural and political events, and much more. And all this is available to the public.
SB: Some years ago, Wim and Erik decided that the current information available through our website still needed to include specific things, especially our scientific research data, which is stored in or linked to our intervention files. So, I was hired to start surveying all the data created at the Institute to set up an institution-wide data management plan.
WF: And quite naturally, the next step is to create a system that will make all this information accessible to the general public as well as to the most specialised researchers. For that, we have created HESCIDA, the Heritage Science Data Archive, a four-year project funded by Belspo, in collaboration with KBR and Art & History Museum, in which we have been laying the groundwork to make research data available too. And at the same time, we will carry out an extensive overhaul of BALaT (our online platform to access the Institute's collections).
The contents that the Institute offers to the public are quite broad. Who is deciding what will be available?
EB: We have an extensive collection of photographs of diverse cultural heritage. Most of these photographs were already digitised two or three decades ago with the technologies of the late 90s, and as such, 75% of the collection is currently available on BALaT. Since 2003, we have been digitising our photographic negatives in-house, resulting in a much higher quality visual experience. We also digitise our intervention files, which contain all kinds of documents right up to the final reports written by our colleagues in the laboratories and restoration workshops. While we are thankful for the support of Belspo in this digitising effort, we are still confronted with the mass of material we would like to offer in open access to the public. With the same limited means as today, it would take over a hundred years to complete everything. So, we must clarify that whatever research someone does, lots of information is not yet available in digital form but is consultable in our reading room. Our rich collection is aimed at people from different backgrounds, so we ensure this information is adapted to everybody's needs. We have created a crowdsourcing page for anyone to add or correct information. Help from our users is essential to us. People regularly contact us to help us identify an object they know from a place in their neighbourhood or when they spot some information that needs to be adapted or corrected. We are very open to all these changes as long as they come with good references.
SB: The basic idea is that everything our Institute creates as a federal public research entity should be made available. However, we acknowledge that certain restrictions, such as external copyright obligations, short embargoes before scientific publication, or privacy concerns for personal information in collections, may apply. We are transparent about existing restrictions, ensuring users are aware of them.
Why is open access to knowledge pushing research forward?

WF: From a researcher's point of view, accessing data from other heritage institutions is a considerable advantage. Imagine observing a discoloured pigment on a painting: what is the process of this discoloration, and how can this fading process be slowed down? Looking into our archives can help you find the answers, but if you can do this research on a European scale, there is more of a chance that someone has encountered and studied it before. Open science facilitates research and, as such, ensures the care of our heritage.

SB: As a data manager, the open science movement has increased the need for a proper data management strategy. Open science requires researchers to make their research and underlying data accessible to the public. In my role as data manager, I strive to provide guidance and support to researchers on data management best practices and to ensure that appropriate metadata and documentation are in place, respecting international standards and forms. By doing so, KIK-IRPA is not only making research data more accessible but also helping to improve its quality. Well-organised and adequately documented data provides a better context for researchers to use the data in their work, leading to higher quality research and more accurate scientific findings.

EB: It's essential to understand that no research starts from scratch, and that lots of information exists already. It is simply a matter of where to find this data. In the past, too many things were hidden behind paywalls or people were carefully protecting and sitting on their 'sleeping' data without letting anyone in. Now, we're opening barriers for the general public and work on creating multiple ways of accessing our information according to the user's needs.
What is the future of the platform?

SB: Our goal is to provide a comprehensive source of knowledge in Heritage Science. To achieve this, we are committed to expanding the scope of BALaT to include a broader range of research data and contextual information, including metadata of measurements, samples, and publications. Safeguarding the research context is an essential feature of the upgraded platform. BALaT will become a user-friendly environment where people can easily browse through the output of research projects, with all the necessary information readily available.
WF: A significant upgrade to the user experience and scope of the data on the platform is underway. Thanks to the HESCIDA project and being part of the European Research Infrastructure on Heritage Science (E-RIHS), we are working with other heritage institutes to link data on a European level.

EB: The upgrade, mentioned by Wim, will allow us to play a major role – as a connecting digital Heritage Science hub–for local, regional, national, European, and even worldwide information on the cultural heritage of Belgium. This information will be freely available to the general public, from schoolchildren to local amateur enthusiasts to researchers and policymakers, in a word: everyone!
The Royal Institute for Cultural Heritage collects a wide range of documentation on Belgian heritage. You can explore the vast contents of our library and our abundant image collections and request access to the intervention files of our experts. All these images and many more are accessible via the BALaT online knowledge platform.
22.11.2023
At the heart of the NEMO European Museum Conference 2023, KIK-IRPA played a crucial role in developing concrete tools to initiate a paradigm shift in the cultural sector.
Read more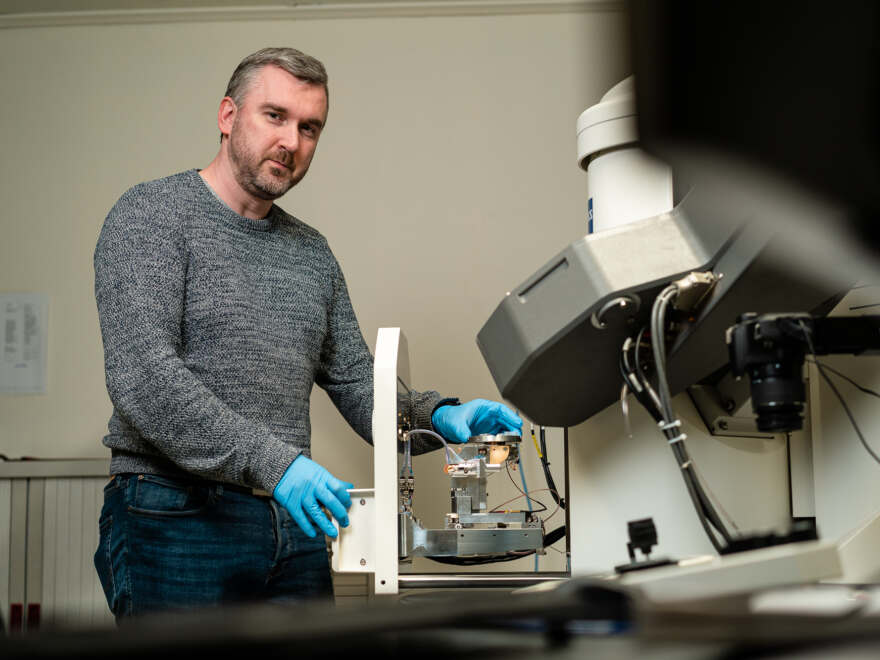 14.11.2023
Our colleague Wim Fremout coordinates the Belgian node of the European Research Infrastructure for Heritage Science (E-RIHS), supporting the interpretation, documentation, preservation, and management of heritage in Europe. Explore further on the new E-RIHS website.
Read more